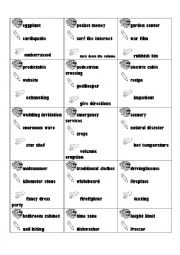 ´Activity´ cards -charades with show tell and draw
"Activity" is a popular and definitely laughter-producing word game played by people all over the world. Students should form pairs or little groups (eg. max. 4 in a group is fine) and play against each other. The aim of the game is to find out what the other is trying to explain. You need a board with at least 5o spaces, the words or signs of the words of "draw", "mime" and "explain" (or "show" and "tell" for the latter ones) should be written or drawn. When you print the cards out (preferably in coloured paper to give a game feeling) and cut them, write numbers (eg. between 3-6) on their backs. These indicate the number of spaces they can move on the game board if their group members find the word out. If you land on a "mime" you can only use your body language to mime the word which is next to the hand symbol. The same goes for draw- pencil symbol, tell or explain- blah blah mouth symbol. They can only use the skills indicated. So if it´s explaining for example, then they can´t draw or use big hand gestures. They can´t just point to sth in the classroom. If it´s drawing, writing letters in their drawing is not allowed. They have 1 min. when only their group members can find out the word (students can start a phone´s timer each time) and after that minute is finished the others can join in, and can win the point if they find it out. Sometimes it takes minutes, sometimes just seconds. One of my laziest and unmotivated teenage students told me he could play this every day...Feel free to ask if you have further questions. Please comment on variations too. I´ll try to upload a game board too, but it really just takes 5 mins. to draw or 1o if you want to colour it too.
Level:elementary
Age: +8
Downloads:19
Copyright 01/4/2015 ealmak
Publication or redistribution of any part of this document is forbidden without authorization of the copyright owner.