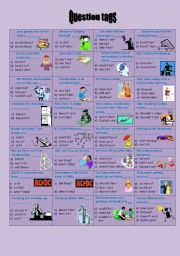 question tags
here is a worksheet about question tags. It is fully editable. Here are the keys your glasses are on the books, arenít they? Jenny isnít playing football, is she? Joe often delivers newspapers, doesnít he? Mum has just had her driving license, hasnít she? Joe has a terrible headache, hasnít he? John canít read, can he? Wayne Gretzky was an extraordinary ice-hockey player, wasnít he? Dad really hates ironing, doesnít he? We mustnít smoke when we see this sign, must we? Your brother is an excellent pupil, isnít he? Letís have a drink, shall we? Your sister always has a coffee in the morning, hasnít she? I must do the shopping, mustnít I? Your sister is really hardworking, isnít she? Your mother could swim very well when she was young, couldnít she? John should go to bed earlier, shouldnít he? Bungee jumping ís not dangerous, is it? It Ďll rain tomorrow, wonít it? Youíll have to take your umbrella, wonít you? Driving can be dangerous, canít it? Hurray, there wonít be school today, will there? John and Tina are in love, arenít they? we were skiing in the Alps, werenít we? We really enjoyed ourselves, didnít we? AC/DC is a famous rock band, isnít it? They entered the Hall of Fame in 2009, didnít they? The Queen lives in Buckingham Palace, doesnít she? They arenít getting married, are they? Iím doing the washing-up, arenít I? He never drinks milk, does he? If he knew about your problems, heíd help you, wouldnít he? Youíve finished your exercise, havenít you?
Level:elementary
Age: 10-17
Downloads:74
Copyright 25/11/2010 Henry Franck
Publication or redistribution of any part of this document is forbidden without authorization of the copyright owner.



see more worksheets by braincrusher