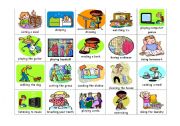 What are you doing?
You can use these cards for a couple different activities. I have used them for my present progressive unit and daily activities unit. Two games/ activities I have done: 1) Charades: Divide the class into teams, depending on your class size - I used two teams. Make two copies and toss them into two bags. Have two team mebers do "rock, paper scissors" to decide who goes first. This is both a listening and sentence construction game - to keep the other team quiet and listening- tell them that their cards are the SAME in each bag - sooooo...if they listen very carefully they can get a very big hint from the other team when that team makes a correct or incorrect sentence as the case may be. One student mimes the action to his team and the team must guess and say the answer using a complete and correct sentence. I do this activity after pronouns so they must also use the correct pronoun. 2) Happy Families: Make as many copies of the cards as you need so that you have a group of 3-5 students with the same card. They must move around the room and ask their classmates what they are doing until they find their group. My students tend to focus on being first and not using the correct language - so I have some rules i) obviously they must use English - if I here them using their native language - they are "out an can not win the game. ii) they can not show there picture - sometimes I make them look at their picture and then leave it on their desk and I collect them during the game. iii) they can not run around saying "watching tv" "watching tv", if I hear this - they are out and must sit down. They must have the full dialogue - "what are you doing" "I´m______". This game gets noisy very fast - it is difficult for me to monitor all the students, however they do enjoy it, and once they know they can be eliminated by breaking the rules - they work harder at only using the target language.
Level:elementary
Age: 8-17
Downloads:2034
Copyright 23/1/2008 sunshine
Publication or redistribution of any part of this document is forbidden without authorization of the copyright owner.



see more worksheets by sunshine