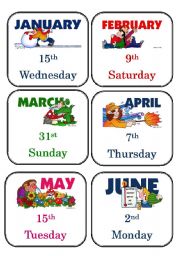 What day is today?/What is today´s date? Activity Card Game 2 of 3
These cards are to help STs differentiate between day and date. Rules: Give each ST three (3) cards. Have the STs walk around the class to ask "What day is today?" or "What is today´s date?" When STs meet, they should rock, paper, scissors. The winner points randomly to one of the loser´s cards and asks one of the questions. If it´s "day", the ST should say the day on the card, i.e. "Today is Friday." If it´s "date", the ST should say "Today is November 10th." However, if the loser answers incorrectly, they have to give the other ST their card. If the loser answers both questions correctly, they ask the winner. Should both STs answer all questions correctly, they should roc, paper, scissors again and the winner gets to take a card from the loser-no questions asked. Then, the STs go find different partners. This game requires your STs to pay attention to what is being asked and to know the answer that is expected. After a few times, the Sts should learn the difference between day and date. These cards are fully editable, and can also be used for past tense (yesterday) and future tense (tomorrow). I will upload two more sets of cards each with different dates to add variety. You should cut out and laminate the cards for repeated use. Also, make a few extra for STs that might run out of cards. I hope you enjoy! Thanks Phillip Martin!!!!
Level:elementary
Age: 7-17
Downloads:195
Copyright 25/8/2011 yume05
Publication or redistribution of any part of this document is forbidden without authorization of the copyright owner.