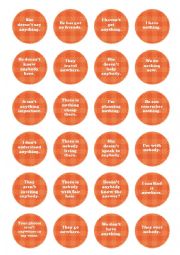 Reversi: "Nobody" and "Not ... anybody" 01
The first of three double-sided sheets of a set of reversi disks practising "nobody" and "not ... anybody", "nothing" and "not ... anything", "nowhere and not ... anywhere", and "no" and "not ... any". Print the two pages on two sides of one sheet of paper, laminate it and cut the disks out. Before printing you might want to make a sample copy to see if the disks overlap and make some adjustments to ensure that they do. (They should overlap, because the disks on each page have been centered.) Here are the rules of the game: 1) Reversi is played on an 8x8 uncheckered board. The game set consists of at least 64 pieces called disks which are light on one side and dark on the other. One player has the dark side of the disks, the other player has the light side. To begin, place four disks in the four central squares of the board with two disks light side up and two disks dark side up and arranged diagonally. According to convention the disks with dark side up are to the northeast and southwest , but it actually doesn't matter much. 2) The first player to make a move is the dark one. She or he must place a dark side up disk right next to a light side up disk so that the light side up disk is caught between two dark side up disks. This can be done in a horizontal, vertical, or diagonal line. The dark player flips the captured light disk over thus changing it into a dark disk. Then it is the light player's turn. He or she places a light disk on the board catching a dark disk between two light ones, again in a horizontal, vertical, or diagonal line, and flipping it over into a light one. This can be done to any disk, even one that was turned into a dark one in a previous turn. 3) As the game evolves, there are possibilities to capture more than one disk as long as they are arranged in a line. A valid move is one in which one or more of the opponent's disks which are in a straight line are caught between the newly added disk and another disk of the current player. The opponent's disks which have been caught are then flipped over. Sometimes it is possible to capture more than one line by adding one disk. 4) You may not make a move unless you can capture at least one opponent's disk. If you can't do this, it is still your opponent's turn. 5) The winner is the player with the most disks of his or her colour when the board is full. 6) You may be wondering by now what this has to do with learning English. It's simple: before you may flip over any captured disks, you must say what's on the bottom side of the disk based on the text you see on the top side. For this particular game one side gives a sentence using "nobody" (or another compound pronoun with "no-") and the other side says the same thing using "not ... anybody" (or another compound pronoun with "any-"). For instance, one side may say: "He knows nobody here." The other side then says: "He doesn´t know anybody here." If the player whose turn it is doesn't know what's on the bottom side of the disk they are about to flip over, they have to leave that disk unflipped. You can find the detailed reversi rules here: http://en.wikipedia.org/wiki/Reversi. Enjoy!
Level:intermediate
Age: 12-17
Downloads:38
Copyright 13/4/2013 Tadeusz Szeryński
Publication or redistribution of any part of this document is forbidden without authorization of the copyright owner.



see more worksheets by tada.s@seznam.cz