ESLprintables presents: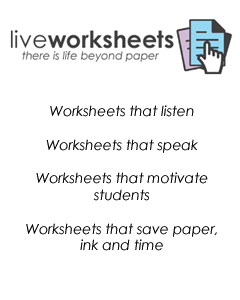 Live Worksheets
Interactive worksheets maker:
Fill in the blanks
Multiple choice
Join with arrows
Drag and drop
Listening exercises
Speaking exercises
Videos
Partner sites:

English Exercises.org: here we publish online learning activities for our students.
Magic Vocabulary
English vocabulary games and worksheets generator.

Contact:

ESLprintables presents


Liveworksheets.com: Online worksheets with interactive exercises, sounds, video and self-correction.



New posts
THE WINNER OF THE WOD CONTEST IS.... PRRRPRPPR!


HI EVERYONE ONCE MORE...

I have had many incomes and all of them were really imaginative and I laughed a lot with all of them, some where a little bit weird too LOL but I laughed more for that reason. I have to say to you all thanks for posting those entries and THE SHOW MUST GO ON!

tHE WINNER IS: KARAGOZIAN!!!!!!!

yes my dear friend, you made me laugh like ever! You are really imaginative and funny...

The actual meaning of the word BLATHERSKITE is:

"A person who talks at great length without making much sense"

Ok here i leave you cause I am in a rush and have a nice week all of you!!! Cheers!

19 Nov 2018
...There are 2 previous answers...
Yeah CONGRATS !

Ruta has it right. I never or rarely compete here as I believed this was something for NATIVE speakers. Now, dear Aisha, your word was probably special, as it sort of inspired me. All the more after a funny post made by one of the most famous Blatherskites on this site. Post that had disappeared by the time I posted mine, not behind a cloud though. Well, I ´ll need some time to digest this fact and to find a word that is as hilarious as yours.

Well, thanks anyway.

19 Nov 2018
Post an answer
PENPALS TO GO!!!


GREETINGS COLLEAGUES,

HOPE YOU ARE ARE ALL WELL....IT ´S GOOD TO SEE FAMILIAR PEOPLE STILL IN THIS GROUP AFTER SO MANY YEARS... AND GLAD THIS GROUP IS STILL AROUND...

ANYWAY... I AM LOOKING FOR PENFRIENDS FOR MY STUDENTS... NOT EMAILS AND STUFF... ALL VIA POST...

WE ARE FROM ATHENS GREECE AND MY STUDENTS WOULD LIKE TO CORRESPOND WITH OTHER STUDENTS

HOWEVER, THEY HAVE CHOSEN COUNTRIES THEY WOULD LIKE TO CORRESPOND... SO HERE IS A LIST OF THE COUNTRIES AND THE NUMBER OF STUDENTS... IF YOU ARE INTERESTED AND YOU HAVE STUDENTS WHO WOULD LIKE A PENFRIEND LET ME KNOW VIA MESSAGE.

THANK YOU

WE WOULD LIKE:

FRANCE -12- 13-YEAR-OLDS - 3 BOYS, 4 GIRLS

FRANCE - 11 YEAR OLD - 1 GIRL

SPAIN - 12/13-YEAR-OLDS - 1 BOY, 2 GIRLS

AMERICA - 12/13 YEAR OLD - 2 GIRLS, 1 BOY

COLOMBIA - 12/13 YEAR OLD - 1 BOY

LONDON - 12/13 YEAR OLD - 1 GIRL

GERMANY - 12/13 YEAR OLD - 1 BOY

RUSSIA - 11 YEAR OLD - 1 BOY

NORWAY - 12/13 YEAR OLD - 1 BOY

SWEDEN - 12/13 YEAR OLD - 1 BOY

MEXICO - 10 YEAR OLD - 1 GIRL

I LOOK FORWARD TO HEARING FROM YOU... THANKS, AND I HOPE I AM NOT ASKING FOR TO MUCH...

19 Nov 2018
Post an answer
CONCERNING THE RULES TO UPLOAD WORKSHEETS


Well thanks then Kohai I understand, I wasn´t told so, but I understand I wasn´t even sure about posting it, but I never imagined talking about an experience was so ofensive, however it was personal, that is sure. Kohai thanks once more for answering, you are really willing to help always and sorry about my stupidity! ;) Have a great day!

18 Nov 2018
...There are 5 previous answers...
I meant that

camike´s

post in this thread is SPAM!

It has nothing common with your post nor ESL teaching.

19 Nov 2018
Post an answer
words


help me with the choosing the correct word

The sun suddenly _______ behind a cloud.(appeared/ disappeared)

thanks

18 Nov 2018
...There is 1 previous answer...
Post an answer
Hi there,

While it ´s not obvious to say wha level your students are, perhaps you can take advantage of the Cambridge Young Learners Exams resources which are at three levels: Starters (pre A1), Movers (A1) and Flyers (A2). The sample papers are here:

Apart from that, there are also other books you could take advantage of once you decide which level is the one you need. There are two Cambridge University Press series: Fun for Starters (Fun for Movers, Fun for Flyers) which practices all skills - reading included for the exam. Storyfun for Starters (and for the other two levels) is more targetted at reading and speaking in my view. Anyway both have scrips you desire.

Here is the download of Fun for Starters:

19 Nov 2018
Post an answer
Peruvian Doctor on CNN Heroes


Hi,

We are so proud that Dr. Ricardo Pun-Chong from Lima Peru has been nominated for a CNN hero of the year. If you like you can vote for me -- or for any other worthy hero -- on this website.

https://edition.cnn.com/specials/cnn-heroes

Thank you!

Esther

18 Nov 2018
Post an answer
Help!!!

Help!!! Dear teachers!I ´m preparing a demonstrative lesson with my 6th graders on Present Perfect with already/ just/ yet and I ´ve been looking for some video material on this topic , but I couldn ´t find any. Could you please suggest some sites from which I could download a short video (up to 3 minutes) concerning that? I ´d be glad, thank you in advance!

17 Nov 2018
...There is 1 previous answer...
Post an answer
A note to moderators


This morning I noticed a ws had been reported for not being an esl exercise. It certainly was an ESL resource, but the issue was there was a listening exercise, without a link or a transcript. It was a 2 sheet ws, with some great exercises. The listening was a very short paragraph at the bottom of page 2, with only 3 blanks to fill! Any teacher could have improvised this exercise or just left it out. I voted for the ws to stay, and put a note on, hoping other moderators would vote to keep it. However, shortly after, the ws disappeared and it has been removed. This ws had got 116 points. I think this reporting, though well-intentioned, was very unfair. If the ws was a copy, fair enough, but this was not the reason given.

Shouldn ´t we exercise a bit of discretion?

Lynne

16 Nov 2018
...There is 1 previous answer...
Post an answer
Urgent!! Penpal Project

I ´m a language teacher at a secondary school in Turkey.My sts are 11-12 years old and very eager to take part in such a project. If you are really interested please get in touch with me from facebook :Sevilay Karakuş or through my e mail adress: sevilayyykarakusss@gmail.com

15 Nov 2018
Hello, I ´m a teacher from Moldova! My students are 11-13 years oldI ´d like to take part in your project! Please , send details in my PM! See you soon!

18 Nov 2018
Post an answer
...There are 12 previous answers...
All that huffiin ´ and puffin ´ after that herring has given me nuthin ´ but swimmer ´s ear

17 Nov 2018
Post an answer
New worksheets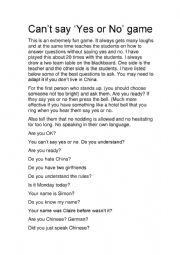 Can't say 'Yes or No' game
This is an extremely fun game. It always gets many laughs and at the same time teaches the students on how to answer questions without saying yes and no. I have played this about 20 times with the students. I always draw a two team table on the blackboard. One side is the teacher and the other side is the students. I have listed below some of the b...
Level: intermediate
Age: 10-100
Downloads: 29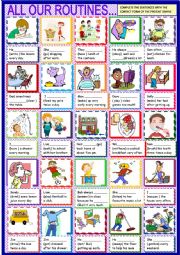 Our routines : present simple
Here is a new worksheet to practise present suimple with daily routines,tahnks Mada for the template and have a great week, Sylvie!:)
Level: elementary
Age: 10-15
Downloads: 97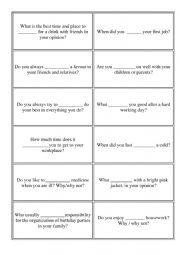 Collocations (go, get, do, take, make)
A good warm-up activity - complete the question with a proper verb to make a collocation and ask your partner
Level: intermediate
Age: 15-100
Downloads: 23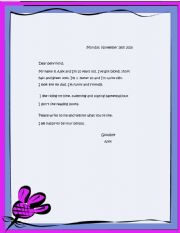 Letter to a penpal
The pupils write a reply to their penfriend Alex from Poland. I'd appreciate if you could send me some of your pupils´ letters. Here is my email: Glutenfree@interia.p l
Level: elementary
Age: 7-100
Downloads: 3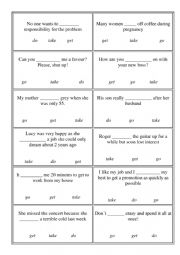 Warm-up activity (collocations)
a set of cards to practice some basic colloctions with take, get, go, do - just choose the correct verb
Level: intermediate
Age: 15-100
Downloads: 20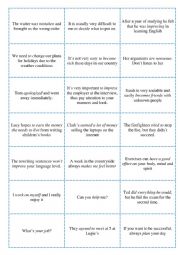 make do collocations
a set of cards to practice make vs do collocations - the task is rewrite the words in cursive with one make-do collocation
Level: intermediate
Age: 16-100
Downloads: 29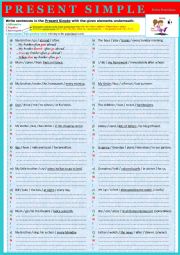 PRESENT SIMPLE - Extra exercises
Here are some extra exercises to have my students swap from affirmative to negative and interrogative and vice versa. The tense system is tricky for our ss. Only practicing can help them to overcome their difficulties. Hope this is useful. This is the link to my irregular verb chart, in case it may help you. http://www.eslprinta bles.com/printable....
Level: intermediate
Age: 8-100
Downloads: 99