ESLprintables presents: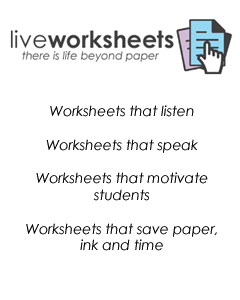 Live Worksheets
Interactive worksheets maker:
Fill in the blanks
Multiple choice
Join with arrows
Drag and drop
Listening exercises
Speaking exercises
Videos
Partner sites:

English Exercises.org: here we publish online learning activities for our students.
Magic Vocabulary
English vocabulary games and worksheets generator.

Contact:

ESLprintables presents


Liveworksheets.com: Online worksheets with interactive exercises, sounds, video and self-correction.



New posts
Helppp

Please help Choose the correct answer: Help (yourself - yourselves) everyone. There (is - are) plenty more.

13 Dec 2018
...There are 2 previous answers...
I agree, and I am in good company! Lynne

13 Dec 2018
Post an answer
TURKEY-PENPAL PROJECT

I īm a language teacher from Turkey . My sts are very eager to have penpals around.their age is between 11-12. But please add me from facebook or write me through my mail adress. I think its gonna be a nice experiment for all of us. May be at the end of the project we could make a skpe conversation too. Hope to hear you dear colleguages.😊mail adress:sevilayyykarakusss@gmail.com

13 Dec 2018
Post an answer
Caption Competition


Caption Competition 11/12/2018

Thank you Maryse Peyé for selecting me as Winner. This competition is great for increasing your Word-Power ... PLUS it brings recognition to your country.

"What do you make of this picture?"

Give us your CAPTIONS ...

Witty; Stupid; Ditty; Cupid; Sad or Bashful; Mad or Trashful; Old or Youthful; Cold or Truthful; Send it in; īCos you could win; And be the Toast; From Coast to Coast.

Come on! Get writing! I īm waiting for your entries, please.

Les Douglas

11 Dec 2018
...There are 7 previous answers...
When everyone tells you your boyfriend has such a fake smile, but love is blind and you think he has the most amazing beam! <3

13 Dec 2018
Post an answer
Letter exchange project

Hi everyone, I am looking for schools willing to start a letter exchange project with 13/15 years old Moroccan class. Regards

11 Dec 2018
Post an answer
Christmas Exchange Cards


Hi guys,




I īm a teacher from Poland. I teach Year 1-6.




Would you be interested in exchanging Christmas Cards- hand made with short wishes.




I know that we don īt have much time but if we prepared and sent the cards this week (till Friday), I think they would arrive at our schools before Christmas.




What do you think? Let me know,





Best regards,




Bozena

11 Dec 2018
Post an answer
A useful resource


I have come across this site accidently https://lv.holaquiz.com/

There are simple questions and the majority is also accompanied with images.


My students liked it. I thought that others teachers might also find it handy.

Richard

11 Dec 2018
Post an answer
Christmas Present Counting


Hey Everyone,

I īve been working on a number / counting activity for my youngest learners and thought I would share it here. I believe that Christmas is a season for helping others and not all about gift giving, however I also know children love the idea of Santa Claus and presents under a tree. This activity has kids identifying, counting, reading, writing, and drawing numbers with a present theme. It has worked well in my class and I hope it can be useful for others. Enjoy!

10 Dec 2018
...There are 3 previous answers...
Thanks a lot! Soooo kind and thoughtful§ Merry Christmas

11 Dec 2018
Post an answer
WOD


Thank you, Cariboo, for choosing my daffynition! And here is your new word. Now remember dearies, we don īt want the real definition, we want a funny one. Or witty, silly, meaningful etc... And here it is...

CRYOLIPOLYSIS

9 Dec 2018
...There are 7 previous answers...
Cryo : prefix meaning cold.

Li : Chinese friend

Polys : Greek for police

is : plural. (not sure from where.)

Cryolipolysis : State of many of the Chinese policemen who got a dirty cold. Maybe due to pollution ?

Val

12 Dec 2018
Post an answer
caption competition winner


What has this tortoise taught us?

That a bare behind is not always a bear behind.

Here is the winning caption. I guess you have found out who wrote it ? Our dear Les of course !

Thanks to all the others for their funny captions.

What a better way to share a relaxing moment ?

Now dear Les I know that you will find another great picture for us !

Hugs to all.

Maryse.

9 Dec 2018
Post an answer
Winner of Daffynition contest


Dear competitors

First I thought it was hard to enter this game but there was something harder : to designate a winner.

That ´s so cruel :( because I had a great time reading your awesome daffynitions I loved them all. I hesitated ... Lynne really well

described my dilemma and for that reason I chosed her as the winner.

Congrats Lynne !

Sorry for Redcamarocruiser , Les Douglas and Valodra ( I burst into laughter reading your daffynition and loved it

).

And finally thanks to Monique for kicking me ...where you think... That contest sure brought some smiles on my face and I ´m

now happy to be part of the gang.

Thanks everyone for your contribution you rock !

Have a great day.

9 Dec 2018
...There is 1 previous answer...
Yeah ! This is a gang That rocks !!!!

9 Dec 2018
Post an answer
New worksheets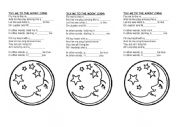 Fly me to the moon
Classics never die! Beautiful song. Try Jason Mrazīs version! My students performed this song to their parents :-)
Level: elementary
Age: 7-100
Downloads: 14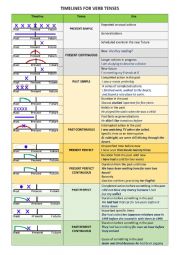 Timelines for verb tenses
I took the timelines from a website and put them in different colours to make it easier foe visual learners. I use it with different levels. They find it very useful, mainly for when to use the present perfect :)
Level: intermediate
Age: 10-100
Downloads: 86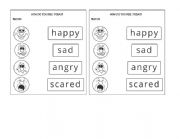 Feelings
In this activity, Sts have to match the feelings
Level: elementary
Age: 5-8
Downloads: 3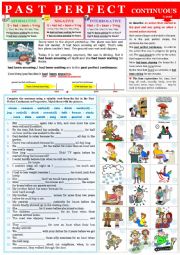 PAST PERFECT CONTINUOUS - rules + exercises + KEY
past perfect continuous, irregular verbs, tenses, general grammar, will, going to, general vocabulary, tense, tenses, regular, irregular, verbs, affirmative, negative, interrogative, spelling, pronunciation, wedding, beehive, decorate, paint, fence
Level: intermediate
Age: 8-100
Downloads: 100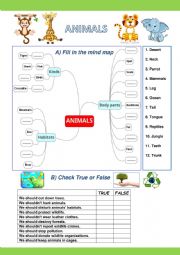 Activities About Wild Animals
I prepared these activities for my seventh grades. I created a mind map and a crossword puzzle to develop my studentsī vocabulary. Also, I added some suggestions about protecting wildlife and descriptions of animals. I hope your students like it.
Level: elementary
Age: 11-16
Downloads: 28