ESLprintables presents: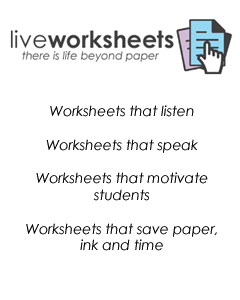 Live Worksheets
Interactive worksheets maker:
Fill in the blanks
Multiple choice
Join with arrows
Drag and drop
Listening exercises
Speaking exercises
Videos
Partner sites:

English Exercises.org: here we publish online learning activities for our students.
Magic Vocabulary
English vocabulary games and worksheets generator.

Contact:

ESLprintables presents


Liveworksheets.com: Online worksheets with interactive exercises, sounds, video and self-correction.



New posts
Etwinning project


Hello dear colleagues

I teach in an Italian secondary school (students aged14 to 18 specialize in foreign languages) and I would like to find partners for an e-twinning project to involve our students (not sure about the topic but suggestions ere welcome)

Are you interested?

Please reply!

thanks

Cristina Contessi

14 Oct 2018
...There is 1 previous answer...
I think you should look up on the etwinning site, there are a lot of proposals for joining projects or you can post your project and look for partners. I made a couple of very nice etwinning projects some time ago, finding partners directly on the site.

14 Oct 2018
Post an answer
Welcome to a Culture Exchange and penpals/ Project and feedback in a facebook group.

Hi dear colleague, I am an English teacher from Morocco my name is Laila. I teach middle school students. I am interested in global collaborative project in whch we involve our students and also to exchange culture. I am working on a project that I called Culture Exchange and Penpals Project.Actually,we created a space in facebook group in which we exchange our cultures and post the letters pictures or a box trcieved and our students feedback and it is an excellent opportunity for our students to intetact and have friends.Recently, many worldwide teachers joined and added their students. If interested please answer back or email me Lailataik.79@gmail.com This is my facebook: Taik Laila and the fc group is called Culture Exchange /Penpals Project. Send a facebook request and I ´ll add you in the group By the way, we are about to start our collaboration for this year and we need new cultural exchange partners. Warmest greetings from Morocco. Laila

13 Oct 2018
Post an answer
compound adjectives

Hi dear collègues, could you please provide me with a song about compound adjective for intermediate pupils

13 Oct 2018
Post an answer
English Language competition

Hello , my dear teachers! I ´m a teacher from Moldova, The Republic of. I ´m currently teaching at a private school with very good and nice kids who are really interested in developing their English language skills. And I am interested in helping them do that, too!To do that they would like to take part in some competitions or Olympiads where they could have the possibility to show their knowledge of English and to collaborate with other children from different countries. If there is / are such competitions in your country/ school, and if you are willing to collaborate with someone from abroad, please, let me know in my PM so I can write back and decide upon further details or conditions of taking part. I ´d appreciate that very much and me and my pupils will be as responsive as possible! Hoping that my message will reach you asap I wish you all the best and I am looking forward to hearing from any of you! Respectfully yours, Nataly!

13 Oct 2018
Post an answer
Australian Aboriginal art - calendars?


Hi everybody,

I deal with Australia in one of my advanced English classes at the moment.

While they studied a text on Aboriginal art, I showed them a video clip of an Aboriginal lady slowly, medidatively painting one of those beautiful, mysterious pictures with colourful dots.

I was so impressed that I decided to look for a 2019 calendar of Australian Aboriginal art which I could disintegrate for classroom decoration.

October is the moment to look for calendars, but I didn ´t manage to find any in my country.

Does anyone happen to know whether it is possible to find such calendars in Europe?

Or can anyone give me an Australian source I could order from?

Thanks in advance

elderberry

13 Oct 2018
...There are 2 previous answers...
I fully agree with Kohai. Let ´s remain courteous and act like brothers and sisters. Sharing is what matters !

14 Oct 2018
Post an answer
Word of the day - 10.10.2018 - 2nd chance


Word of the day - 10.10.2018


Great thanks dear Moody Moody to have chosen my silly daffynition for your word.

Now let me just suggest mine before I leave to my students.

What about AGASTOPIA ? Let ´s go ! Up your crazy funny sophisticated literary "animaly" .... AND OWN daffynitions please !

Have a very splendid day and I am looking forward to reading from you !

Hugs.

Maryse.




https://www.eslprintables.com/forum/topic.asp?id=55115

Well, well, well... Here is the weekend and the best moment to laugh ! So you may be ok to try to find a sophisticated, shy, disconnected... daffynition to complete my collection ? I am sure you are !

I am still laughing about some of the previous pearls I read...

Excellent Saturday and splendid Sunday.

Read you soon.

Maryse.

13 Oct 2018
Post an answer
caption competition 13 10 2018


Great thanks Lynne for your asking me a picture for our game.

Here it is : I want your craziest, scariest, most inventive, most exasperated... captions for this photo !

"Halloweeny" yours ;)

Maryse.

13 Oct 2018
...There are 4 previous answers...
How kids react when they hear you are making spaghetti--they become spaghetti monsters!

15 Oct 2018
Post an answer
Sadly something really rude happened to me....


Well, first of all thanks to all those people that were nice and even thanked me all my ws. Sadly I uploaded a ws talking about nationalities. I wrote about many of them. The thing started when I received one sms telling me (in a good way first) I was wrong, that I couldn ´t write ´Germans are ´.... or ´Russians are ´.... but ´The germans are ´.... or ´German people are.... ´, I mean I had to write the nationalities with the article at the beginning or writing ´people ´ after the noun. Well, I was quite sure both ways were possible, but I doubted, so I looked it on the Internet and I found that nationalities with nouns instead of adjectives were without the article. So I wrote her back,first telling her I was wrong only when writing ´French ´, as I had to say French people and I told he also there was no need to write the article ... Then I Iooked up in Cambridge dictionary the word ´French ´ and it says it is rather an adjective or a noun, so sadly I answered her again telling her that it could be ´Frenchs ´ as well (although I wasn ´t really sure yet) and sent her a link with the instruction I read.

Well maybe I am wrong, but I got tonigh a private mail that was really rude, in a really bad manner. I don ´t think I said anything bad to her, and I don ´t like feeling this way when all I wanted was to know actually the real way. If she is right we could know by many ways instead of telling me I don ´t know anything and writing me so rudely. My English isn ´t perfect, I know, but I believe I have quite a good level, indeed. However, I don ´t feel like going on this way, but before I go, I wish someone (an English native if possible) could tell me if it is or not possible to say: English are... whatever; Russians are..... whatever... And what about French? Is it possible without the ´the ´? Or the reason it isn ´t possible (if so) is because the adjective is the exact same word as the noun?

Thanks in advance!

Good luck to you all

Bye!

12 Oct 2018
...There are 12 previous answers...
I come a bit late, still not wholly or fully or completely back from Armenia. My English is far from perfect dear Aisha. That was the right thing you did. Many of us have had this kind of experience. But mostly this site is fantastic with plenty of marvelous people caring and sharing. Thank you all for your wonderful posts and helpful answers.

14 Oct 2018
Post an answer
...There is 1 previous answer...
Post an answer
Error uploading


Dear friends,

There has been an error in the web server and most of the worksheets and ppts uploaded today were not properly saved.

Now the problem is solved, but those of you who uploaded worksheets or powerpoints today, please check if your contributions have been published. Otherwise, please upload them again.

I ´m very sorry for this.

Thank you everybody for your patience!!

Victor

12 Oct 2018
Thank you, Victor. It actually happened to me. I am going to send it again.

12 Oct 2018
Post an answer
New worksheets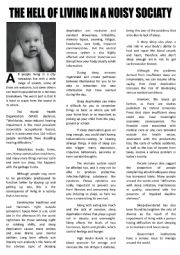 NOISY SOCIETY
We live in a hell when talking about noisy cities, and I am one of the people affected, so I decided to write about it. WITH EXERCISES AND A CROSS WORD WITH THE KEYS
Level: intermediate
Age: 14-100
Downloads: 11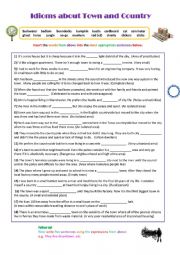 Town and Country Idioms
A short worksheet on idioms relating to town and country.Useful for C1 or C2 exam preparation. Answers provided.
Level: advanced
Age: 16-100
Downloads: 9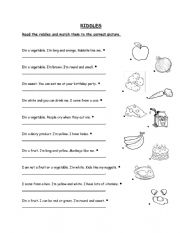 Food: riddles
This is a very simple reading piece, in which kids have to guess the food item and they match it with the correct picture. My 7 year old kids loved it.
Level: elementary
Age: 7-11
Downloads: 3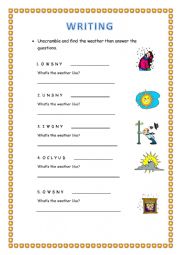 WEATHER
This printable reinforce weather vocabulary by unscramble the words helping with pictures and then answer the question about the weather.
Level: elementary
Age: 8-10
Downloads: 4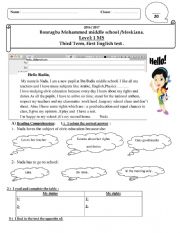 Duties and rights
A test about duties and rights plus different tasks of grammar and pronunciation
Level: intermediate
Age: 11-12
Downloads: 7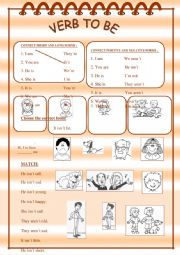 Verb to be

Level: elementary
Age: 9-12
Downloads: 9