ESLprintables presents: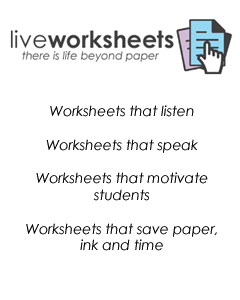 Live Worksheets
Interactive worksheets maker:
Fill in the blanks
Multiple choice
Join with arrows
Drag and drop
Listening exercises
Speaking exercises
Videos
Partner sites:

English Exercises.org: here we publish online learning activities for our students.
Magic Vocabulary
English vocabulary games and worksheets generator.

Contact:

ESLprintables presents


Liveworksheets.com: Online worksheets with interactive exercises, sounds, video and self-correction.



New posts
CONCERNING THE RULES TO UPLOAD WORKSHEETS


Hi to everyone!

I hope everything is fine to all of you... I wanted to say that rules are to be followed, that ´s why they are made. I have read the rules once and again and from my point of view there ´s nowhere I broke the rules in my worksheet that has been removed. I don ´t care, but I think it was unfair if we talk about the rules and not the preferences. The worksheet was reported and then checked by administrator and finally deleted. Well I made exercises for it and I will upload again. But here it goes the rules that once were writen and it wasn ´t by me. What I understand here is that you can upload only a reading ws as far as it was writen by you. Well, this is my case. But maybe there is something I didn ´t understand well. In that case, let me know, please. However, there is no problem as I have made up some exercises to the text...

There has been another ws with only text and wasn´t reported and another that only had a sentence telling to end up the story which doesn´t make much difference as any teacher can just ask children to make a sumary of the story.

i wish you all a great week! Izas

You can use texts from other websites or books in your worksheets if you add your own exercises or activities (For example, reading comprehension questions, etc). Please don ´t take texts from other ESL websites or books, it would be unfair.

If your worksheet is just a reading text, it will only be accepted if the text is written by you.

It is acceptable to take a text from other sources (not ESL websites or ESL books) and add your own exercises or activities, but you are not allowed to take an exercise from another source and add more exercises of your own. All the exercises must be yours.

18 Nov 2018
I had a similar problem. I have been teaching for nearly 20 years and I create web activities and worksheets. An original worksheet that I created and contributed was "reported" and deleted too. It's frustrating, but maybe you can find something else to upload? I think sometimes that if what you add looks very professional, or like it could be copied, people may just assume that it is. I think another tip is that if you add pictures, it will look really interesting and a lot more people will want to download it. Good luck! :D

18 Nov 2018
Post an answer
words


help me with the choosing the correct word

The sun suddenly _______ behind a cloud.(appeared/ disappeared)

thanks

18 Nov 2018
"The sun suddenly disappeared behind a cloud".

The sun can´t suddenly appear behind a cloud because it is already there.

But you can say "The sun suddenly appeared between the clouds". Or, "...between the trees".

18 Nov 2018
Post an answer
Post an answer
Peruvian Doctor on CNN Heroes


Hi,

We are so proud that Dr. Ricardo Pun-Chong from Lima Peru has been nominated for a CNN hero of the year. If you like you can vote for me -- or for any other worthy hero -- on this website.

https://edition.cnn.com/specials/cnn-heroes

Thank you!

Esther

18 Nov 2018
Post an answer
The same request shouldn ´t be posted more than once on the main Forum page.

It ´s not polite to other members.

18 Nov 2018
Post an answer
Help!!!

Help!!! Dear teachers!I ´m preparing a demonstrative lesson with my 6th graders on Present Perfect with already/ just/ yet and I ´ve been looking for some video material on this topic , but I couldn ´t find any. Could you please suggest some sites from which I could download a short video (up to 3 minutes) concerning that? I ´d be glad, thank you in advance!

17 Nov 2018
...There is 1 previous answer...
Post an answer
A note to moderators


This morning I noticed a ws had been reported for not being an esl exercise. It certainly was an ESL resource, but the issue was there was a listening exercise, without a link or a transcript. It was a 2 sheet ws, with some great exercises. The listening was a very short paragraph at the bottom of page 2, with only 3 blanks to fill! Any teacher could have improvised this exercise or just left it out. I voted for the ws to stay, and put a note on, hoping other moderators would vote to keep it. However, shortly after, the ws disappeared and it has been removed. This ws had got 116 points. I think this reporting, though well-intentioned, was very unfair. If the ws was a copy, fair enough, but this was not the reason given.

Shouldn ´t we exercise a bit of discretion?

Lynne

16 Nov 2018
Post an answer
Urgent!! Penpal Project

I ´m a language teacher at a secondary school in Turkey.My sts are 11-12 years old and very eager to take part in such a project. If you are really interested please get in touch with me from facebook :Sevilay Karakuş or through my e mail adress: sevilayyykarakusss@gmail.com

15 Nov 2018
Hello, I ´m a teacher from Moldova! My students are 11-13 years oldI ´d like to take part in your project! Please , send details in my PM! See you soon!

18 Nov 2018
Post an answer
...There are 12 previous answers...
All that huffiin ´ and puffin ´ after that herring has given me nuthin ´ but swimmer ´s ear

17 Nov 2018
Post an answer
need help.


I need help.Which one is right: is it Iwon ´t certainly go or I will certainly not go .thank you.

15 Nov 2018
...There is 1 previous answer...
I agree with Lynn if those are your only two options.

"I certainly won ´t go" or "I certainly will not go" would be the most common ways of stating your definite refusal to go somewhere.

15 Nov 2018
Post an answer
New worksheets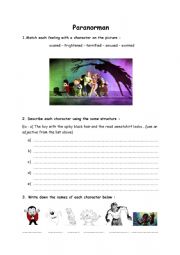 Paranorman worksheet fear vocabulary
This is an easy worksheet I use with my students to revise the fear feelings and the physical description.
Level: intermediate
Age: 10-14
Downloads: 9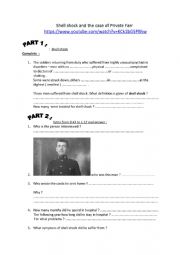 shell shock and the case of Private Farr
An oral comprehension activity from a youtube video on shell shocked soldiers tried and shot for cowardice during the first world war
Level: intermediate
Age: 15-17
Downloads: 11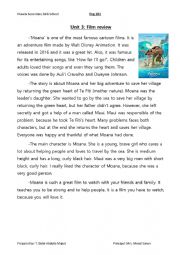 Film review - Moana
It is a film review about the film Moana. It has general information about the film, the summary, analysing the main characters and recommendation about it. Then students should answer different questions after reading the review. It can help students to understand how to write a film review.
Level: advanced
Age: 14-16
Downloads: 33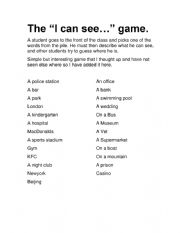 I can see.... Game
A student goes to the front of the class and picks one of the words from the pile. He must then describe what he can see, and other students try to guess where he is. Simple but interesting game that I thought up and have not seen else where so I have added it here. I have tried this game several times and it has always been entertaining. A great...
Level: intermediate
Age: 6-100
Downloads: 13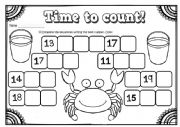 Time to count!
Having fun with numbers!
Level: elementary
Age: 4-8
Downloads: 14




Drawing Food
An activity where students need to draw different food items according to correct number.
Level: elementary
Age: 5-7
Downloads: 1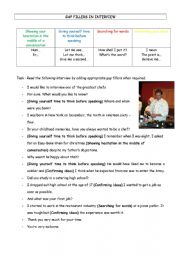 GAP FILLERS IN INTERVIEW
Can be used to insert gap fillers in reading activity - Next task could be students writing their own interview (with someone who has a similar or a different job)
Level: intermediate
Age: 10-14
Downloads: 32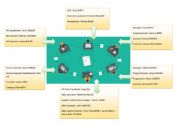 Company organization
Can be used to create an org chart and / or describe various jobs in businesses.
Level: intermediate
Age: 12-17
Downloads: 9